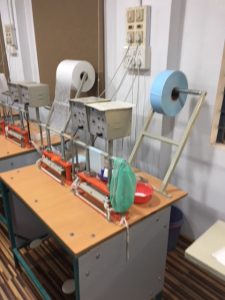 I am delighted to say that all the money raised over the last 18 months for the EMPOWERING WOMEN 'S SANITARY TOWEL FACTORY has been handed over to Mumba Children's Project. We have come a long way. This is what we have done:-
…the land is bought
…the workers trained
…there is enough money for the sanitary towel           making machinery
…there is some money towards the building of the factory, but not enough yet.
I now hand over to Mumba Children's Project the responsibility to raise the remaining money to built the factory in Zambia using local knowledge and expertise.
The Knicker Lady will concentrate on collecting KNICKERS still to send to Zambia but will also help supply KNICKERS and sanitary goods locally in the UK.
PLEASE HELP MUMBA  by fundraising for them. This factory will bring hope to the village and build self esteem amongst the women of the area.
Thank you everyone who has joined me on this journey. We will watch with enthusiasm to see how MUMBA  brings the project to fruition in Mpongwe. Good luck to Mumba Children's Project.